Madison Office Hours
Monday through Friday
7:00 a.m. to 4:00 p.m.
Cottage Grove Office Hours
Tuesday & Wednesday 7:00 a.m. to 5:00 p.m.
Thursday 7:00 a.m. to 4:00 p.m.
Appointments
We know you have many choices when choosing a Dentist in Madison, WI or Cottage Grove, WI so we have made requesting an appointment a simple process via our website. If for any reason you cannot keep a scheduled appointment, or will be delayed, please call or text us within 24 business hours in order to best take care of other patients and our team. Late cancellations are subject to a fee.
Patients without Insurance:
Payments of cash, check are offered a 5% service courtesy. Patients over age 65 are offered a pay-the-day of service courtesy of 10% with cash or a check. Additionally, we do offer an in house membership plan that covers cleanings and discounted treatment. Please call our office to learn more.
Patients with Insurance:
As a professional courtesy to our patients, we will complete and submit all claims directly to your insurance carrier(s). However, having insurance is not a substitute for payment. You are responsible for issuing a payment for the estimated patient portion on the day of service.
Patients with insurance benefits will be given an estimated patient portion at the time that dental recommendations are treatment planned. The estimated* patient portion is required at the time of service.
Please be advised, the dental insurance carrier may pay less than or more than estimated. Many insurance companies have fixed allowances or percentages based on your current contract with them, not our office. Please understand that it is ultimately your responsibility to pay the deductible, coinsurance, and any other balances not paid by your insurance carrier.
In the event the insurance payment is delayed or denied by your insurance carrier, payment in full is expected to our office within 30 days from the date of service. Any outstanding balance over 90 days is subject to 18% annual interest.
The estimated insurance benefits offered by your plan policy are never a guarantee of the actual benefits provided. At your request and as a courtesy to you we will file a pre-treatment estimate to your insurance carrier (please be advised that is not a standard procedure).
If you do have plan specific questions, it is best to contact your insurance company directly. (Please see your plan insurance card for contact information).
*We are not providers for Badgercare, Medicaid, or Forward card. Please call our office directly to inquire about the insurance companies with which we are in network.
Financing Options
CareCredit is here to help you pay for treatments and procedures your insurance doesn't cover. We offer No Interest* financing or low minimum monthly payment options so you can get what you want, when you want it. You can even use CareCredit for your family and favorite pet.
With three simple steps, including an instant approval process, it's easy to apply for CareCredit. After you're approved, you're free to use CareCredit for the services you choose including LASIK, veterinary, dentistry, cosmetic, hearing aids and more.
CareCredit is endorsed by some of the most credible organizations specific to each healthcare profession we support. And CareCredit is a GE Money Company, so you know you can count on us. For over 20 years, we've been helping over five million cardholders get the healthcare treatments they want and need.
Now you don't have to worry about saving up for the procedures you want and need. With CareCredit, the decision's in your hands to get what you want, when you want it. For more information or to apply online, visit carecredit.com
If you have questions regarding payment options, please contact our Business Team.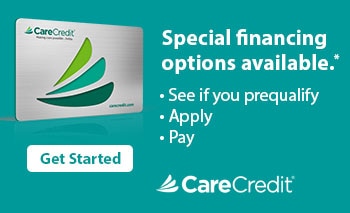 Questions or Comments?
We encourage you to contact us whenever you have an interest or concern about our services.